Crazy times on the plane! This is after one major, and I do mean MAJAH poop explosion from peebs before boarding. I had to bathe him in the bathroom sink ! He had a great time in the plane and never even noticed pressure changes...
We went to visit Bubs maternal grandmother and take her to dinner! We had so much fun. Peebs at this point was really struggling from the lack of proper naps and he showed out some.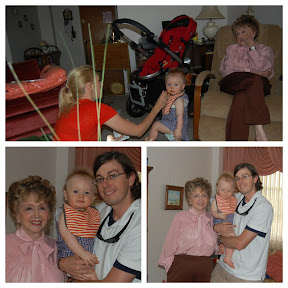 And we even made a little time for an Ikea run and an upscale outlet mall! I got some great deals at the outlet! Orlando has great shopping! @forthelovemel you need to check out the Kate spade diaper bags at the outlet! They were awesomely priced!
We are all super tired and my boy is super overtired and angry right now. Protesting from the pack n play. Tomorrow I will try much harder to get his 2 solid naps in! Whew! He is not near as much fun without naps!
Posted using BlogPress from my iPhone